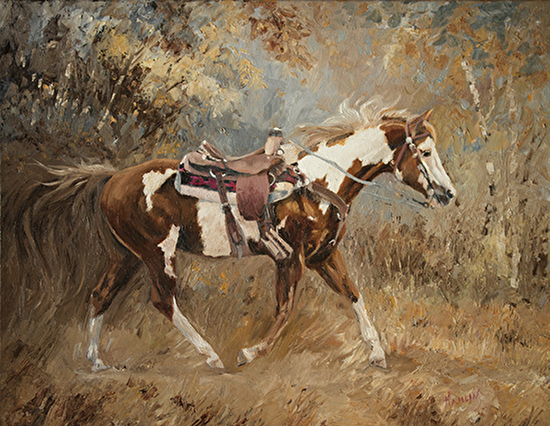 Heading Home, oil 20" x 24" His rider/roper is busy with his team tying a steer, Pegasus' job is done.
Welcome
To view paintings click on 'Portfolio of Paintings', Scroll down to view the different 'Collections' (groupings of paintings), click on 'View this collection' to see more paintings in the collection.
I love doing action paintings, the feeling of power and grace, like choreographing a dance routine. I do sketch and paint from life whenever I can, but to capture the action, that moment of power or delight; and to see just how the light is catching the muscles at that moment, I do combine a number of photos (that I take myself), refer to equine anatomy books and make frequent trips to our corals to just run my hand over one of my horse's muscles or to stand and watch them move.
Most of the scenery in my paintings is from our ranch or our neighbour's horse ranch in the Manitoba Interlake region or the shield country in northwestern Ontario.
In order to hold onto the emotion, the power of the animal, the joy of the handler, etc. I direct paint usually in one or two days, working while the paint is still wet. I spend much longer than this designing the painting and getting the image clear in my head before I start to paint.
I've been described as an incurable romantic, which seems to influence my paintings.
Memberships
2013 awarded signature status in the International Equine Artists

2007 accepted into the International Guild of Realism Artists
Oil Painters of America
Portrait Society of America

Canadian Artists Representatives (CARFAC) since 1985

Winnipeg Sketch Club accepted in 1972

Studio
There are usually twenty or more paintings in my studio and many samples of commissioned work available. I started working in oils, but then spent many years working in watercolors and then acrylics, finally returning to oils. I have also spent time studying different aspects of painting, abstract, floral, still life, portrait, landscape, etc. I've now come full circle and back painting horses in oils.
Newsletter
A few times a year, I'll send out a newsletter, a few notes on art enjoyment, plus my newest paintings and shows and/or workshop news. If you'd like to subscribe, just go to my
"email newsletter"
page, you'll be able to unsubscribe at any time and I promise to never sell, or lend my email list. You must subscribe to get my newsletter/cartoon in order to receive it, if someone forwards it to you, you won't be automatically subscribed.
Click here to subscribe
.
"Bonnie Hamlin has been painting horse art and western art for a number of years. She is presently working on a group of equine art, featuring Arabian horses as well as cowboys and quarter horse oil paintings.
"




all images copyright Bonnie Hamlin
PHONE: 1 204 322-5731